If you want to know how to control diabetes, then before that it is important to know about diabetes. Diabetes is incurable, you can control it with the help of medicines, a balanced diet and lifestyle changes.
Define Diabetes
Diabetes is a disorder, not a disease. Insulin is a hormone that regulates blood sugar levels in the body. This helps blood sugar get into the cells of the body to provide them with energy. When the body does not produce or use insulin effectively, blood sugar levels rise. This causes diabetes. Living with diabetes can have many health implications. Therefore, it is very important to control the rise in blood sugar to lead a healthy lifestyle. There are mainly three types of diabetes:
Diabetes Type-1: This type of diabetes develops when the body does not produce insulin. For this reason, people with type 1 diabetes are given insulin shots or injections to control blood sugar levels.
Diabetes Type-2:  This type of diabetes develops when the body makes insulin but doesn't use it properly, which is the most common type of diabetes. People with type 2 diabetes can control their blood sugar levels with medication and lifestyle changes.
Gestational diabetes: Gestational diabetes is the result of hormonal imbalances that occur during pregnancy. In most cases, gestational diabetes goes away after childbirth. However, both mother and child are at risk of developing diabetes later in life.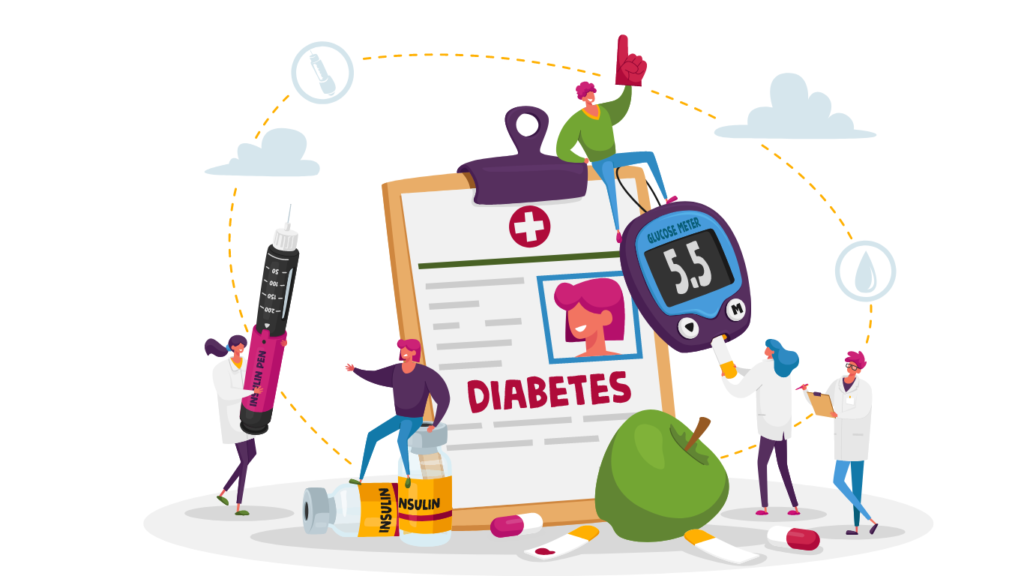 The necessity to take care of Diabetes
You may have heard that people have slightly elevated sugar levels, have mild diabetes, or are advised to eat a little more sugar. Well, diabetes is a serious problem. Ingestion may cause a slight deterioration in well-being. Managing your diabetes can help you feel better today. It also keeps you healthy in the future. If you have high blood sugar, you may have:
Lack of energy.

 You feel hungry and thirsty. 

The wounds do not heal quickly.

 Infection of the skin and bladder occurs.

 Frequent urination.
And you're at risk of all these too such as heart attacks and strokes, kidney and liver problems, paralysis of arms and legs, and problems with teeth and gums.
If you become aware of the symptoms of diabetes, be extremely careful and contact your doctor as soon as possible. Early diagnosis and advice can help prevent deterioration in your health. There is no cure for high blood sugar, but it can be treated with proper consultation with a doctor. In addition to medications and insulin therapy, there are many natural treatments for diabetes.
Natural Treatments/Tips to control Diabetes
Drink plenty of water. It will keep your body hydrated and your kidneys working properly. This is how the kidneys remove toxins through the urine. Excess blood sugar is also flushed out of the body along with toxins in the body. Thus, drinking water reduces blood sugar levels and the risk of developing diabetes. 
Drink copper-treated water: Human body requires a small amount of copper intake. Copper is a mineral that helps in the functioning of several enzymatic processes in your body. There is no better way of taking copper through copper-treated water. You can put some water in a copper vessel at night. Drink this water empty stomach in the morning. Copper water contains anti-inflammatory and antioxidant properties that boost immunity. Hence, it significantly helps in blood sugar control as well.
Light exercises such as walking, jogging, cycling, yoga, and meditation are helpful for diabetes. When you exercise, your body burns blood sugar to fuel your muscles. It helps to reduce diabetes. It also improves insulin sensitivity, allowing the body to effectively control blood sugar levels. Avoid excessive exercise. This causes the body to produce more stress hormones, which raises blood sugar levels. 

Eat a balanced diet, is also one of the best ways to control your sugar levels.  All naturopaths recommend a healthy, balanced diet to keep blood sugar levels low. Avoid unrefined flour products, carbonated drinks, junk food, and foods high in carbohydrates. Instead, you should include plenty of fibre-rich foods, vegetables, low-fat proteins, low-calorie foods, and low-calorie foods in your diet.

Smoking is a bad habit that raises blood sugar levels. This contributes to poor blood circulation in your body. This makes the body resistant to insulin, which ultimately raises blood sugar levels. Sometimes a smoker's body does not respond well to diabetes medications. This can lead to health complications, including heart and kidney disease. So, quit smoking to control your diabetes.

When you drink alcohol, your liver has to work harder to get the alcohol out of your body. Therefore, blood sugar control does not work. Some alcoholic drinks are very high in calories. Drinking such drinks can increase diabetes. Reduce your alcohol intake in a way that maintains normal blood sugar levels.